Hundreds of local charities, nonprofits, and local businesses have been the recipient of the generosity of Impact Deposits Corp. and our client depositors.












$1 Billion
In funds managed, distributed, and protected
Community businesses and nonprofits supported
$13 Million
In fees shared with our network of partners and clients
Impact Deposits is recognized as the first company to provide a socially responsible investment vehicle in cash deposit accounts with full FDIC insurance. Our program is a cash product that helps depositors support local nonprofits as opposed to their money remaining dormant in savings accounts or traditional money market accounts. While our program is frequently evaluated as a social impact investment, no "investment" is being made in Impact Deposits but rather funds are deposited, generate interest, and are fully retained by depositors.
Impact Deposits takes the sustainability profile of its banking partners very seriously and strives to have inclusion in the Impact Deposits' Community Bank Network serve as a signal to the market that a bank is actively pursuing a socially responsible agenda. Impact Deposits recognizes that the potential impact of its banking network exceeds the impact it is able to deliver on its own and actively encourages banks within its network to be more socially-minded by driving donations to nonprofits on behalf of the bank (through our program) and with specific initiatives that are intended to engage banks with nonprofits in their community.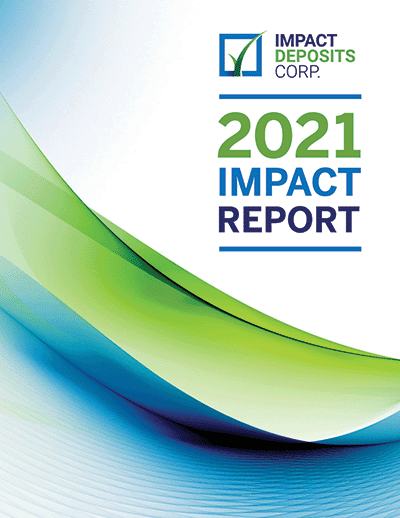 2021 Social Impact Report
The power of a funding source to bring together community financial institutions with organizations for change.
Some of the Organizations
Some of the Organizations

A law firm that is committed to solving community social challenges by bringing banks and nonprofits together, CSC is Impact Deposits' direct financial conduit to hundreds of nonprofits and charitable causes across the U.S.

A co-working environment and national hands-on support for mission-driven leaders and organizations, C4SC is Impact Deposits' arm for providing nonprofits and social entrepreneurs a community in which to work, connect, innovate, and learn.

Offering a service that makes it easier for banks to identify and qualify nonprofits that meet banks' specific Community Reinvestment Act (CRA) and impact criteria, findCRA is supported by Impact Deposits to foster the connection between banks and the impactful organizations in the communities they serve.